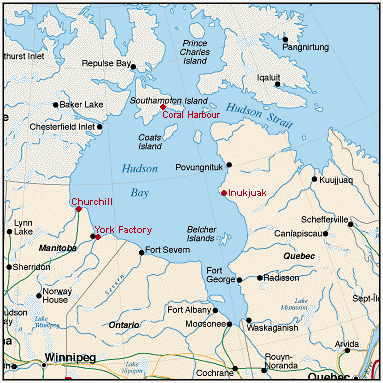 Hudson Bay is a large but shallow body of water in northeastern Canada.
It acts as a shallow drainage for a very large area that includes parts of Ontario, Quebec, Saskatchewan, Alberta, most of Manitoba, parts of North Dakota and Minnesota, and the southeastern area of Nunavut.
This area is famous or you can say in the news because one of the world's oldest and largest commertial trading companies called Hudson Bay Company was formed specifically to hunt for fur in this area.
Two frenchmen were told by a Cree tribe that this place has the best fur. These guys made the business plan but when they gave the sales pitch to the french financier, he balked because he was more interested in trying to promote agriculture and farming.
The frech entreprenuers then headed to Boston, MA where impressing upon the Bostonians, who advised them to have Britain finance this venture.
Finally they succeeded and formed one of the most lucrative trades in the region. All because the Cree tribe which knew about the Hudson Bay gave them a tip on it.