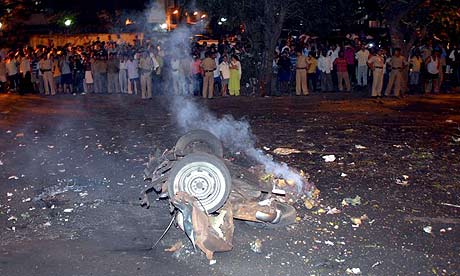 Mumbai is under siege and it seems like gangs of terrorists have take over the city. There are crazy reports of attacks from every corner and people are scared.
Below is the excerpt from a leading Indian newspaper about the news.
I will be live blogging the situation in Mumbai, India where these attacks have been perpetrated by a little known terrorist group Deccan Mujahideen.
ATS chief Hemant Karkare, two senior police officers and 78 others were killed when terrorists struck with impunity in Mumbai on Wednesday night in coordinated multiple blasts and gunfire in a dozen areas including at iconic landmarks CST railway station and two five star hotels–Oberoi and Taj.

Karkare (54), who is probing the Malegaon blasts case, was gunned down when he was leading an operation at Hotel Taj against terrorists who had taken 15 people, including seven foreigners, as hostages. He was hit by three bullets in his chest. One MP Krishan Das and 200 people were stranded in Taj hotel.
Were you there in Mumbai when the terrorists struck? Tell us about the situation in Mumbai, India and whats going on there.
Check the comments for the latest updates on this. As we speak, the Indian army and terrorists are still fighting.
Watch the youtube video of the mumbai, India terrorist attacks below:
The State Department has established a Consular Call Center for Americans concerned about family or friends who may be visiting or living in Mumbai, India. The number is (888) 407-4747.