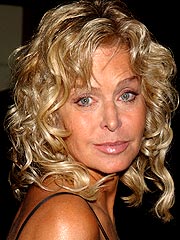 People's magazine is reporting that Farrah Fawcett is battling cancer but she is determined to stay positive.
In the statement, titled "Positivity is a Necessity," Fawcett, 59, says: "Throughout the journey of my life, I have maintained a strong faith in the power of the human spirit to overcome adversity. I deeply believe in one's own positive will to overcome even the most daunting challenges.
"I am resolutely strong and I am determined to bite the bullet and fight the fight while going through the next six weeks of cutting-edge, state-of-the-art treatment. I should be able to return to my life as it was before at the end of my treatment.