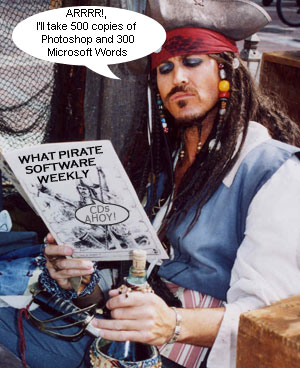 BSA has compiled a list of 12 companies which were caught using pirated software. In the jargon speak – "Twelve companies were fined by the Business Software Alliance last year for not playing by the rules of asset management". (Here is the link to the site. If you don't prefer the slide show and simply want to read the list, continue below).
According to the report, many of the BSA's busts are made possible through a BSA Reward Program, which offers up to $1 million to individuals who report offending companies.
I seriously doubt the $1 million dollar part. If some mom and pop company is caught using few pirated copies of let say Windows XP and the settlement is reached at 50K, paying the informer $1 million sounds totally outrageous. If there is no jail term involved, I bet some ingenuous employer could even partner with the supposed "informer", thereby leading to a hefty windfall for both of them.
Personally speaking, piracy should stop at college or school level where you are not making any money out of it. But if you are working in a company who is going to use it to support their service, then they better pay up.
List of 12 companies companies caught stealing:
Company: Chef Works, Inc.
Headquarters: San Diego, Calif.
Type of Unlicensed Software: Adobe, Microsoft and Symantec
Settlement Paid: $102,000
Company: Roger's Gardens
Headquarters: Corona Del Mar, Calif.
Type of Unlicensed Software: Adobe, Microsoft and Symantec
Settlement Paid: $73,368
Company: Datatec Systems, Inc.
Headquarters: Alpharetta, Ga.
Type of Unlicensed Software: Adobe, Autodesk, Borland, McAfee, Microsoft and Symantec
Settlement Paid: $69,000
Company: RAIR Technologies, Inc.
Headquarters: Brookfield, Wis.
Type of Unlicensed Software: Microsoft
Settlement Paid: $150,000
Company: J&B Importers, Inc.
Headquarters: Miami, Fla.
Type of Unlicensed Software: Adobe, Microsoft, and Symantec
Settlement Paid: $100,000
Company: Media Lab Ventures, LLC
Headquarters: Tampa, Fla.
Type of Unlicensed Software: Adobe, Autodesk, and Microsoft
Settlement Paid: $125,000
Company: AccentCare, Inc.
Headquarters: Irvine, Calif.
Type of Unlicensed Software: Adobe and Microsoft
Settlement Paid: $240,400
Company: Investors Management Trust Real Estate Group, Inc.
Headquarters: Sherman Oaks, Calif.
Type of Unlicensed Software: Adobe, Microsoft and Symantec
Settlement Paid: $235,000
Company: Global Microwave Systems, Inc.
Headquarters: Carlsbad, Calif.
Type of Unlicensed Software: Adobe, Autodesk, Microsoft and Symantec
Settlement Paid: $231,500
Company: The Waggoners Trucking
Headquarters: Billings, Mont.
Type of Unlicensed Software: Adobe, Microsoft and Symantec
Settlement Paid: $300,000
Company: Burlington Coat Factory
Headquarters: Burlington, N.J.
Type of Unlicensed Software: Microsoft and McAfee
Settlement Paid: $300,000
Company: Payless ShoeSource, Inc.
Headquarters: Topeka, Kan.
Type of Unlicensed Software: Adobe, Autodesk, Borland, Internet Security Systems, McAfee and Symantec
Settlement Paid: $124,057