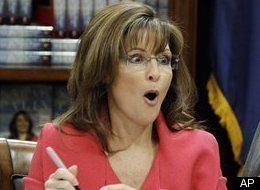 "Sarah Palin's Alaska" is officially headed to Discovery Communication's TLC. The network that exploded over the last year with the help of "Jon & Kate" has acquired eight episodes of Palin's documentary-style tour of her home state, produced with reality kingpin Mark Burnett.
"Our family enjoys Discovery's networks," Palin said. "I look forward to working with Mark to bring the wonder and majesty of Alaska to all Americans. "Burnett, who created "Survivor," described Palin as "a dynamic personality that has captivated millions." "I can't think of anyone more compelling than Sarah Palin to tell the story of Alaska," he said. "I'm thrilled to reunite with Discovery on this project, which brings together one of the most fascinating figures of our time with one of the most wondrous places on earth."
"Discovery Communications is so excited to help Sarah Palin tell the story of Alaska, and to have a great documentary filmmaker in Mark Burnett helping to reveal Alaska's powerful beauty as it has never been filmed, and as told by one of the state's proudest daughters," Discovery COO Peter Ligouri added.
"TLC is grounded in great storytelling, strong characters, and passionate audiences drawn to extraordinary people doing extraordinary things," TLC boss Eileen O'Neill said. "We are confident Sarah Palin's Alaska will be another compelling television event."