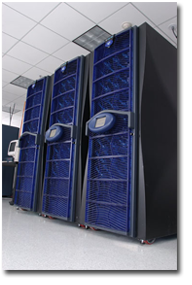 BANGALORE, India (AFP) — India's Tata group and Hewlett-Packard said Tuesday they had built the Asia-Pacific region's most powerful supercomputer in a major boost to scientific research in India.
Computational Research Laboratories (CRL), a wholly owned Tata unit, built the machine, named "Eka" ("the one" in Sanskrit), using HP's high-end "computer building blocks," the two companies said.
Scientists and engineers would have the ability to perform 120 trillion "floating point operations" per second using the supercomputer, the most powerful in Asia including Japan and the world's fourth most powerful, they said.
The speed of floating point operations, or FLOPS, is an important measure of performance for computers, especially in scientific calculations.
The machine won entry into the TOP500 Supercomputer list, which catalogues the world's 500 most powerful installed technical and commercial computer systems, HP and CRL said in a statement received in Bangalore, India's technology hub.
The supercomputer, which uses the fastest processors made by microchip giant Intel, promises to help push scientific and industrial discovery to "unprecedented limits," it said.
"This project will herald the availability of affordable research in India," said S. Ramadorai, chairman of CRL. "This will pave the way for growth in the Indian research industry by providing affordable access to computational infrastructure to the vast existing research talent pool."