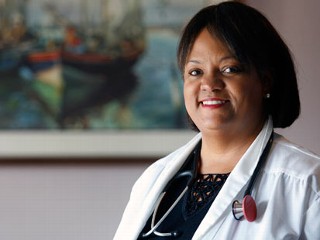 Obama has picked his White House Surgeon General and by most media accounts it is going to be the Alabama family physician Dr Regina Benjamin.
Dr. Regina Benjamin is a graduate of Xavier University, Morehouse School of Medicine, and the University of Alabama School of Medicine.
Dr. Regina Benjamin chose to return to the southern region that she grew up in, starting a family practice in Bayou la Batre, Alabama (a small shrimping village along the gulf coast).
Regina Benjamin Bio Wiki
After pratising there for a few years and moonlighting in emergency rooms and nursing homes to keep her practice open, and with an MBA from Tulane under her belt, Dr. Benjamin converted her medical office into a small rural health clinic dedicated to serving the large indigent population in her community.
Dr. Regina Benjamin's significant and extraordinary dedication and self-sacrifice have already won Dr. Benjamin national recognition.
In 1995, Dr. Regina Benjamin became the first African-American woman, and the first person under 40, to be elected to the American Medical Association (AMA) Board of Trustees.