Just read about a story of a couple who brought a home in California for 250,000 dollars. During the boom time in CA, the same house was selling for 500K. Now that is a phenomenal fall by any standards.
Mary Ann Lepley and her hubby Derrick moved into a new house in CA with their 2 year old daughter called Melody. They love their house and they love more the fact that they paid half the price of what they would have been asked to pay during the CA housing bubble boom period.
Address of this place where house prices are falling so drastically.
The house is situated in Lake Elsinore. Lake Elsinore is situated in Riverside County, and it is one of the hardest hit counties in the nation's foreclosure mess.
The beautiful community is located at 70 miles southeast of Los Angeles and is chock a block with suburabn homes of the kind you see in sitcoms like Orange County etc.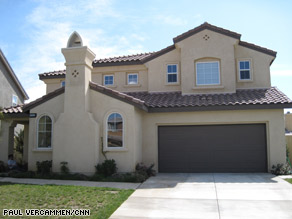 Now this is a beautiful home by any standards. I can't believe the couple paid only 250K for such a beautiful house. They are very very lucky I would say to get this bargain price. For those who saved for a rainy day, this recession is proving to be a very lucky one.