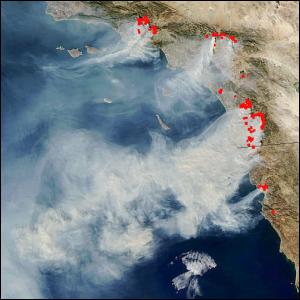 ________________________________________________________________________
Its the season of California burning. You can run but you can't hide. If the fuel price does not burn a hole in your pocket, the raging fires might do! Last I checked, the national average gas price was $4 a gallon but in California it was hitting almost $4.50.  (No wonder why Toyota Priuses are selling like hot cakes and there is a huge waiting line in California but thats another story)
If you think situation was not already bad, hear this out – more than 400 fires were sparked by lightning and were burning across Northern California on Sunday as firefighters struggled against rough terrain. Kudos to these fire fighters for their ordeal and courage against this monstrous combination of fire that is turned on by wind, lightning, thunderstorm etc. Even the terrain was not on their side.
There is smoke everywhere and people have been forced to either stay indoors, other wise they have become teary eyed.
Some of those who were did not have the luck of just getting watery eyed were ordered to evacuate and leave their houses and belongings behind.
State fire workers have issued a no-burn proclamation for the southern half of California, including San Diego County.
Cal Fire is suspending open residential burn permits in 24 counties – from Calaveras and San Joaquin counties in the central part of the state to San Diego and Imperial counties.
So if you are from these counties, take precaution.