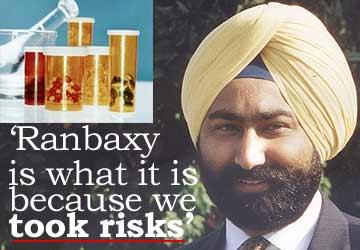 I have seen Ranbaxy anti-biotics being sold in Wal-Mart in US. It was one of the few Indian companies which were involved in mass retail in one of the world's biggest and most lucrative market.
Ranbaxy, one of India's largest pharmaceutical company and with an enviable global foot print have been brought over by a Japanese firm, Daiichi Sankyo. (The Japanese actually brought a controlling stake which gives the new stake holders primary say in the direction and strategy of the company).
Just when Indians were getting used to Indian companies buying foreign multi-nationals left right and center, think of Corus, Jaguar, Land Rover etc., one of India's bigger giants gets brought over.
Being in the game means the ball could go any way, not always the way you want it.
A pragmatic way to look at it would be that in this day and age, who ever can run the company best, be they from anywhere, should have an equal shot as the locals in having a go at it.
Drug research is a money intensive business. So far they have been big hitters in the generics but it takes an altogether different ball game to be a player in original research. According to an online quote –
The drug discovery process involves investment of billions of dollar and, hence, it is impossible for most domestic drug makers to pursue the original drug discovery process. Margins are thin in the global generic business mainly due to intense competition, noted the experts.

Already, Aurobindo Pharma, Cipla and Orchid Chemicals and Pharmaceuticals usually, among others, figure on the list of companies that are takeover targets for multinational pharmaceutical companies. However, valuations have detered these deals, they said.
This decision to sell by Ranbaxy owners may not go down well with the mainstream Indian populace.
Some background information on this company: Ranbaxy Laboratories Limited is an Indian company incorporated in 1961. It is India's largest pharmaceutical company. It exports its products to 125 countries with ground operations in 46 and manufacturing facilities in seven countries. It is ranked among the top 10 generic companies worldwide. The CEO of the company is Malvinder Mohan Singh.
For more information on this, check out the Rediff article from here.