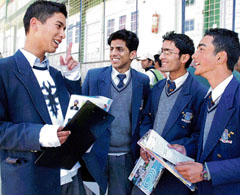 Its that heady time of the year when the fruition of all the hard work that you put in takes place.
Central Board of Secondary Education (CBSE) Class 12 examination results are being announced today. Students based in Orissa who've appeared for the exams can access their results through Reliance mobile phones.
They can check their exam results on their Reliance mobile phones either via voice portal by dialing 51234 815 @ Rs 2.40 per minute or via the Reliance mobile educational portal by dialing 53030 815 @ Rs 2.40 per minute or by clicking on:
Reliance Mobile World>Exam Result>Get Results and entering their exam roll number.
Additionally, students can also access results of other examinations held by several state boards. Reliance is actually quite popular application on which many students depend on.
Reliance should make this service available for free. In fact, CBSE should make this information available for free on its website after the students register themselves on the site. I don't see why a company has to benefit from this whole process of announcing the results and making a business model out of it.
Reliance would earn some goodwill if it does away with charging the money.