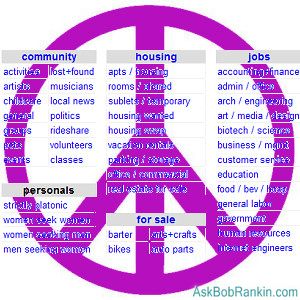 I have been a big fan of Craigslist. Mostly at the conceptual level because so far I haven't really had any need to get something out of the site. But that doesn't mean I don't like browsing around the various listings and see whats going on. Be its classifieds like apartments, cars or even temp stay-at-home software jobs, or even the free section, where people simply want to dispose off stuff and need you to carry it off from them.
The best part about this whole thing is there are no ads and, generally, hardly ever any spam as well.
Craigslist has been a major disruptive force for newspapers and done more than anybody else in hurting their bottom line. Of course it would easy to blame the internet for this but a lot of credit goes to this website specifically which doesn't charge any fees for bring the buyer and seller together on the same platform.
Craigslist charges a nominal rate only for selective categories like apartment listings or jobs in certain areas but that also is more to act as a deterrent than anything else because otherwise these professionals would start spamming the website.
This ridiculously popular and homespun website is run by a staff of 25 and made a shade below $100 million dollars revenue in the last financial cycle.
Now of course they are in the news because of the legal wrangling with eBay, which owes a minority stake in the company and holds about 28 percent which the Craigslist guys tried to downgrade. Since eBay runs its own free classifieds site Kijiji, which happens to be more popular in Canada and few other nations, Craigslist felt there was a conflict of interest and tried to further dilute its (eBay's) minority stake.
The move did not go down well with eBay which filed a suit again Craigslist and tried to win an injunction against the company. This followed with a counter suit filed by Craigslist which claimed unlawful competition by eBay. Craigslist had asked the court for the shares held by eBay to be either given back to the parent company or to be divested to another stakeholder.
We'll wait and see what the court has to say on this but expect the proceedings to become more interesting in the coming days.
An interesting aspect to all this is the the move by ex Craigslist staffer Philip Knowlton to sell the shares to eBay in the first place.  He sold out for a reported $12 million – 4 years later, that stake is now worth over $1 billion!
imagine how must he feel!!