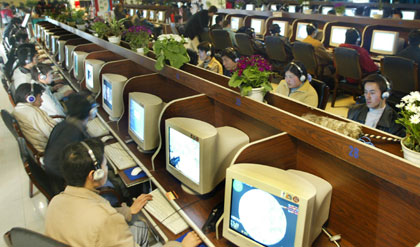 (Pic: A Chinese Web Cafe)
Blame it on population but China's Internet users have overtaken the United States' to become the world's biggest with about 220 million web surfers according to BDA China, a Beijing based technology consulting and research firm.
Liu Bin, an analyst with the firm largely attributed it to two major factors, continued growth in broadband users and the popularity of Internet cafes in relatively small cities.
By the end of 2008, China is expected to have 280 million Internet users, according to the consulting firm.
United States had occupied the numero uno position since the birth of Internet as a network of computers under the auspices of the US Department of Defense since 1969 until it got piqued by the world's most populous country.
It is difficult to predict the accuracy of the Chinese reports, considering China is such a huge country and a whole bunch of Chinese don't connect to Internet from their own telephone lines. (Expect an average Jing to use either his mobile phone or visit his local Internet web cafe to get check his emails).
However in one metric, and which really matters to the advertisers, is the number of hours spent online. In this clearly the Chinese have overtaken the US.
Chinese users average 15.9 hours per week, while Yahoo!, the most popular Internet site in the U.S., can only get its users to stick around for less than one hour per week (216.5 minutes per month according to ComScore Media Metrix).

That's 1.765 billion hours per week online in China, compared with 129 million hours per week online in the U.S.
Below are some of the Chinese websites which come in the top most traffic bracket: (Along with the Chinese language link, I have included the translated link as well)
Sohu (http://www.sohu.com)
The site is one of the most popular in China, containing information on News, higher education, stocks, Music, People, Movies etc. It is also the official Chinese website for Olympics. The revenue of this website is almost 3 times the revenue of the next top Chinese website.
Unlike Americans, Chinese spend a lot of time searching for news because they do not have access to newspapers like New York Times, LA Times etc. The news coverage in China is totally government controlled and tightly regulated.
Baidu (http://www.baidu.com)
Baidu is the Google of China. It allows curious & inquisitive Chinese people to search for news, mp3s, images, videos etc etc. (In fact Google had a fracas once with Baidu over letting users search for free music).
Considering Tibet is getting high coverage these days, I thought of searching for the term "Free Tibet" in Baidu. Below is the translation of the second highest link the search returned.
Search For "Free Tibet" on Baidu
The website seems to be promoting artists who are speaking out in favor of Tibet. Being in US, I am not sure if my results are being vetted by the Chinese government but they would certainly not be in favor of such artists getting prominence through the Chinese website.
Interestingly, somebody wrote a comment saying this is all nonsense but then he/she gets contradicted by 5 other posts.
Sina (http://www.sina.com)
Sina has some pages in English. The website likes to call itself a leading online media company for China and Chinese communities around the world. The website focuses on News, content, games, search, online shopping etc.
The bean counters would be happy to know that both Sina and Sohu have adapted the Sarbanese-Oxley system of checks and balances.
Tudou (http://www.tudou.com)
This website is a Youtube clone. (Nobody beats 'em when it comes to copying).
Impact Of These Changing Dynamics
I see a lot of growth in the coming years in terms of plain vanilla work like companies scaling up to meet the online banking, stocks, e-commerce etc demands and other services which can be provided online.
On the web front, as far as innovation and research is concerned, nothing spectacular has come out from China. Even the few Chinese start up entrepreneurs, Calvin Chin for instance, have embarrassingly conceded that it mostly consists of American copies and variants.
Calvin Chine was the brains behind a Chinese startup called Qifang which intented to provide P2P lending services to the mainland Chinese users.
Born in Michigan and schooled at Yale, Calvin shifted to China to build his company. He collected seed money of about $200, 000 from Hong Kong based investors to start this company. Regarding the prospects, only time will tell. Read more about it from TechCrunch.
However what is extremely surprising on the part of American startups is, their sheer ignorance of the Chinese market. After the home market, the next usual target is Canada and/or Europe. In the meantime, some Chinese spark sees the potential, builds a copy cat application, and before the nerd in Silicon Valley realizes it, the startup has lost the first mover advantage in world's biggest web market in terms of eyeballs and advertising revenue.
Considering the statistics, China should be among the top countries to focus on because of its sheer market size and potential growth in the coming years.