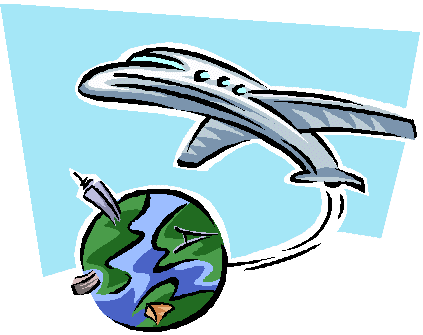 This topic has already been covered numerous times by other websites so you might be thinking what's new. I already hear you all groaning but at the risk of sounding clichéd, mine is different, but only slightly. Find out how.
Recently I had to buy a couple of tickets. I started with the usual process of googling and reading about other people's experiences. After going through all those methods, I tried improving upon them. Here I am skipping out the part which is already known, that of searching through various travel websites, but including the one I built on top of it.
Eventually when I brought the tickets, I ended up paying almost 20 to 30 percent less that what I was initially going to pay. Perhaps there is still room for further improvement, but only so much can be done when there is a definite dead line to meet, like a relative's marriage or a reunion etc., and you have to travel no matter what.
So Here Goes.
This is straight up. I found Kayak (www.kayak.com) to be much better than its peers like Expedia, Orbitz, Hotwire etc. Kayak does not book anything itself but re-directs the user to the airline website where eventually the flight booking takes place.
The buyer pays the same price as, if they would have gone directly to the airline website and brought the ticket. How does Kayak benefit from all this? Kayak gets a commission from the airline for redirecting, which is fine since buyer pays the same price either way.
Tickets on other sites like Expedia, Orbitz etc. are usually priced a few dollars more (at the minimum). Additionally, you can compare prices offered on other websites through Kayak by checking the available columns.
Also, a killer feature I like in Kayak is that you can select "show nearby airports" under the From and To columns, and find the cheapest rate available for all the nearby airports. Since I am based in New York, I have the option of choosing from six airports – LaGuardia, JFK, White Plains, Newark, Long Island, Hartford
This way I don't have to select an airport one by one and search for the best deal.
The slide rule process for narrowing down the time of the flight to suit your timing is also quite popular. A lot of users find this immensely useful.
While researching I came across a website called Sidestep (www.sidestep.com), which is an exact copy of Kayak. Not sure who copied whom here but I have been using Kayak for way before since I heard of this site.
All said and done, the bottom line is use Kayak but it won't hurt to run check on other sites like Expedia etc. to ensure you are indeed getting the best deal.
Auxiliaries
I call this section auxiliary because the process mentioned here is basically secondary to the one above. Do the above, then carry out the process mentioned in this section to ensure you have the best deal.
South By Southwest
As far as I could make it out, neither Kayak nor its peer group cover Southwest airlines in their search. You have to physically go to the Southwest website to check its prices. Southwest gives you prices for each way trip and sometimes it has these web-only prices which are totally rock bottom. A thing to note here is, the initial price shown by Southwest is excluding the taxes. One has to further navigate inside while buy to check the final price.
But even then these price can be comparatively lower than other airlines although only for a certain direction. Also, Southwest covers limited destinations compared to other biggies.
In my experience, sometimes you get a better deal if you buy tickets for to and fro separately. If the option of Southwest is available, ensure you check out the prices on Kayak for both directions separately, and compare them with the Southwest. You might get a good deal like I did recently.
American Express
The American Express website (www.americanexpress.com) surprisingly has a flight search and booking feature and I have found some great deals, albeit on very rare occasions. Even though majority of the time its lowest price is way above Kayak's, I have found some great last minute deals on it. So make sure you include this site in your list of websites to scan through.
Flexi Time & Dates
If the day or/and time is not a binding factor, meaning your timing is flexible, Priceline is another site you ought to factor in your search. Priceline has this bidding feature where you can enter the price you are willing to buy the ticket for. This way you can get the cheapest rate possible but the flip side is, you might have to catch the flight or deplane at odd hours.
A website called Air Fare Watch Dog (www.airfarewatchdog.com) shows you a list of routes with the cheapest possible rates. If you think you can adapt your travel plans according to the schedule give there, go for it.
One site which tells you the best possible price between two cities is Best Fares (www.bestfares.com). Although I did not get a chance to check the veracity of the claims made, you can use this site to find out how much more you ended up paying for your ticket or how low you can possibly go for the particular ticket.
If you know a better way to snag the cheapest deal, don't forget to share it here.