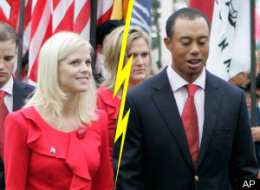 Tiger Woods' wife, Elin Nordegren, will not attend the Masters to watch her husband's return to golf in April, according to RadarOnline.
It was previously reported that the former model was contemplating taking their kids to Sweden during the prestigious tournament, and People followed up yesterday to add that she does not want to attend the Masters.
If Nordegren does not show up, her decision may be for the best. After all, Joslyn James, the porn star who claims to have been impregnated by Woods on two separate occasions, will be stripping in nearby Atlanta all weekend long. This is the same woman who published extremely graphic text messages that she says Woods sent her during their affair. And if previous reports are true, James in particular repulses Tiger's wife(even though there are other porn actresses associated with Woods).